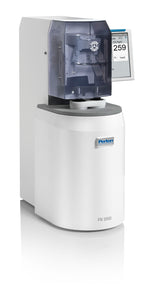 Falling Number® 1000 instrument
-The Falling Number 1000 is an automatic dual sample analysis system designed for simple operation. The system includes functions for automatic water level control, automatic start and automatic stop at operator set FN target. It also includes functions for registration of sample ID, calculation of moisture corrected sample weight, mean value calculation, moisture corrected results, altitude correction and calculation of blends and malt addition.
The user can also select the optional Fungal Falling Number method. With its 5.7" touch screen, operation is simple and intuitive – including local language options. The FN 1000 has USB and Ethernet ports for printer and bar code reader and results can be readily copied to a memory stick or sent for external collection in e.g. a central LIMS system.
Features & Benefits Faster: User set min FN result auto-stop option for time saving during high sample load periods.
Safer: Isolated water bath and stirring mechanism, and reduced steam. Easy to Use: Auto-start, automated water level control, temperature and atmospheric pressure sensing. Confidently used by non-technical operators.
Reliable: Simple, robust design provides exceptional instrument life and low cost of ownership.
Calibration-Free: Saving users time and ensuring correct, reliable measurements.
Altitude Correction: Automatic re-calculation of FN results. Built-in atmospheric pressure sensor alerts operator if altitude correction is required. World Standard: Uniform reporting for grain growers, traders and processors.
The Only Approved Instruments: Use for trade and export purposes. The Perten Falling Number models are the only validated instruments covered by the approved International standards: AACCI/No. 56-81.03, ICC/No. 107/1, ISO/DIS 3093.