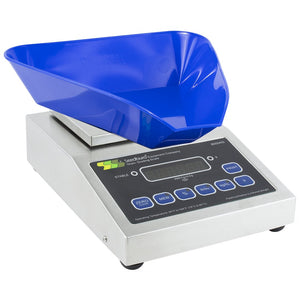 The new Seedburo 9000AG Digital Computer Grain Scale features the latest in grading scales. It's not only the most accurate on the market; it is also the industry leader. Based on proven technology, the 8800SS provides you with dockage (foreign material) percentage; test weight results in pounds per bushel or kilograms per hectoliter, and gram weight—all with the push of a button. It's that easy! The 8800SS also features a built-in memory that allows samples to be stored and recalled. That makes calculating percentages a breeze.
Other features of the 9000AG let you set-up procedures of standard or reciprocal percentage modes, cup selection (quart, pint, or liter), active/frozen percent, and test weight selection.
Of course, it's NTEP certified and the optional RS232C interface lets you hook it up to your computer or printer. And, you can get it in 115V, 50/60Hz, or 230V, 50/60Hz models. No. 64P Triangular Sample Pan is included.
Imagine all these features in one easy to use unit. The new Seedburo 9000AG Digital Computer Grain Scale. There really is a world of difference.
Industry leader in grading scales
Touchpanel Calibration
Membrane Touch Panel
Tests weight in Lbs./Bu or Kg/Hl to 0.01
Dockage readability to 0.01%
Multiple Cup Selection
2000 Gram Capacity
Two Year Warranty
NTEP Certified for Legal Trade Applications
PRODUCT SPECIFICATIONS